Mt Rainier Tours – A Guide for Nature Lovers
For adventure freaks who seek for quenching their thirst for cascading waterfalls, glassy lakes, snow-capped peaks, and expansive meadows, the perfect antidote is Mt. Rainier. With heavily forested surrounding areas and the national park, this stratovolcano offers adventure seekers and nature lovers with various activities around the year and also an opportunity to connect with your soul. This guide will help you to plan Mt Rainier Tours from Seattle.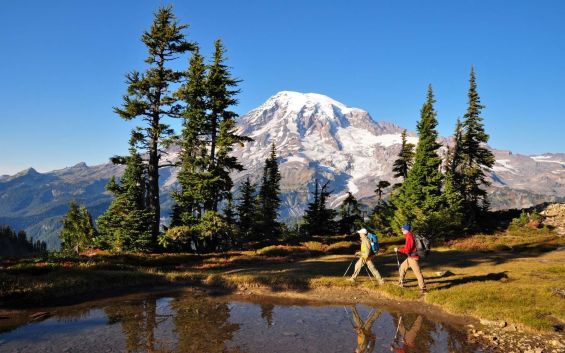 Reaching Mt. Rainier
Approximately Mt. Rainier is two hours from Seattle and three hours from Portland. If you are not residing in the Pacific Northwest, both cities having international airports provide quick access to Mt. Rainier gateway communities like Ashford, WA.
Selecting the Base Camp
You will get most of the campsites on a first come first serve basis from May end to September end. Check the National Park Service website in advance for availability. During winter, stay at nearby cabins and amenities vary from luxurious to rustic. You will be getting hot tubs, fire pits, fully stocked kitchens, and amazing views during your stay.
Round the Year Activities
Gondola
From Crystal Mountain, the tourists get a bird-eye view of Mt. Rainier and the Cascade Range via gondola. Whether covered in drifts of snow or wildflowers, experience the wilderness landscape from the top. There is 2,000 vertical feet ascent to the top of Crystal Mountain where along with the view, there are mountaintop trails, shops, and a restaurant.
Balloon Ride
For a lifetime experience, you must not miss the ride in a hot air balloon to catch a breathtaking view of Mt. Rainier. Mt. Rainier tours from Seattle offers a ride which starts from the City of Enumclaw and takes you over farmland, lakes, and rivers. Shared trip and private rides are available from May till September.
Northwest Trek Wildlife Park
Photographers and nature lovers will surely benefit from a trip to Northwest Trek, where guided walking paths and tram rides take tourists through the 725-acre park. This area is home to more than 200 North American animals that you can witness during tram ride in the 435-acre free-roaming area or at hiking paths that passes through different habitats. You may see brown and black bears or coyote, foxes and gray wolves in the Northwest wilderness regions.
Train Rides
Mt. Rainier Railroad and Logging Museum take tourist on themed steam train rides through the forested foothills located south of Mt. Rainier and across the Upper Nisqually River to a museum un Mineral Washington.
Adventures during Fall, Summer, and Spring
Climbing Mt. Rainier
If you are fantasizing to climb Mt. Rainier with your buddies, please check the International Mountain Guides which is three and a half-day adventure trip conducted in July. You will be visiting two camps – Camp Muir at 10,080 ft. and The Flats at 11,000 ft. Staff will be providing you essentials like climbing gear, cookware, stoves, shelter, and all-day meals. This excursion is a perfect opportunity for exploring your courage and strengthening the bonds with your friends.
Mountain Biking
The Carbon River Road which is situated inside the National Park runs through an inland temperate rainforest that provides access to rushing rivers and lush forests. It is a five-mile leveled path with little elevation is perfect for seasoned and first-time riders. The low-traffic trail passes over bridges through wetlands and offers tourists a phenomenal glimpse of Mt. Rainier and access to wildlife encounters and solitude.
The perfect way to experience Mt. Rainier and its surrounding areas is by walking. So, try one of the below hikes.
Silver Falls – This hike is a 3-mile look that takes you through roaring waterfalls and soaring trees.
Bench and Snow Lakes – Best during summer, this 2.6 miles trail will take you to two lakes where hikers can cool off after their hard work.
Winter Activities
Cross – Country Skiing and Snowshoeing Mt. Rainier Tours from Seattle helps you to arrange multiple activities during winter. The park provides ranger-guided snowshoe walks that are best for small groups and beginners. You can also ski along various trails including 3.2 mile River Trail and 0.8 mile Trail of Shadows loop.