How a Full Day Tour is a Fantastic Journey for the Whole Family?
A family vacation is never what its cut out to be; no matter how much you plan the meticulously curated itinerary, things are most likely to fall apart. But the best part about family trips is that you find a way to enjoy your fellow family members interests and grow a stronger, deeper bond with them. Now, when your trip is in a lively city like Seattle, there is very little to worry about. Each of the Seattle full day tour is sprinkled with fun, family-friendly activities for you to do and places meant to be enjoyed by families!
Families with Varying Age Groups
"What are some of the full-day tours in Seattle that my family would enjoy?" you ask? Well, the truth is it'll be hard to find activities your entire family wouldn't enjoy together. Seattle is jam-packed with fun activities to partake in, and almost all of them are family-centric. Whether you have little kids, distant teenagers, disruptive young adults, or aging old parents, this full-day tour through Seattle's finest will bring out the best in each age group!
Now, we shall present before you an ideal full-day itinerary in Seattle with some extra activities you may wish to include to yours, depending on your timeframe. Make sure to take into consideration the likes and dislikes of your family members while planning this trip.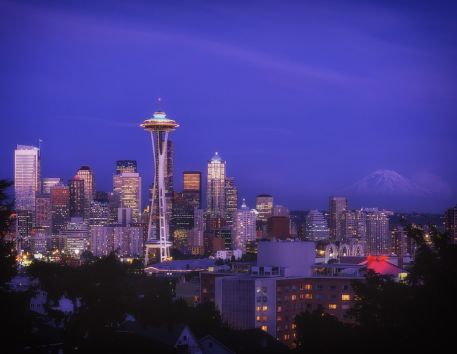 The Seattle City Tour
What better way to spend some quality family time than by cramming up in a minivan or coach and sightseeing all that Seattle has to offer? This tour typically lasts a few hours depending on the route taken, and ideally covers all the major sights on the way. The Space Needle at the Seattle Center, the Pike Place Market Tour, and the Fremont Troll Sculpture are sure to be covered on all of them, and are each fun, interactive ways to find out more about Seattle, but also about your family members.
Seattle Underground History Tour
If you're the kind of family that loves to get involved in the history of the city and learn how it came to be, you might want to try out the captivating underground history tour. This tour lasts close to 2-3 hours and is a fun way to learn all about Seattle and its history with the rest of your family. But if your family also has members who strongly dislike history, you might want to stay away from this tour.
Snoqualmie Falls and Seattle Winery
Ideal for families who enjoy a little adventure, this tour includes a trip to Snoqualmie Falls as well as a visit to a classy boutique winery. A trip to the falls is the most exciting way to spend some quality family time, whether you're soaking in the stunning views or splashing about in the cold waters. Add a little alcoholic happiness to it at the end of the day to amp up your vacation.
The Pike Place Market
This is one of the most iconic landmarks in all of Seattle and for a good reason. You'd need a whole day to tour through the good and bad of the Pike Place Market, and who better to tour it than with your family. Whether you take a cultural walking tour or a food-tasting tour, rest assured there is something for every member of your family. Don't forget to buy souvenirs to take back home with you and remember this vacation by!
Mount Rainier Full-Day Tour
Take a trip to the Mt Rainier day trip and enjoy picturesque views of the national park with the rest of your family. Trek through the mountainous terrain, witness several sights along your way, and camp inside/outside the park- all within the comfort of your family! Cuddle up together by a fireplace and reminisce childhood stories as you soak up your gorgeous surroundings.
Gourmet Seattle Walking Tour
A family that eats together stays together- walk hand-in-hand through the vibrant streets of Seattle as you make your way to the tastiest restaurants and devour upscale comfort food with the rest of your family. There's nothing quite like a family bonding together over a meal; partake in this luxury you've been gifted with.
These are just some of the fun ways you can spend some quality time bonding with your family while on a full-day tour in Seattle. Mix and match as you please and make sure each family member has something to look forward to in your trip!